Last week I made a successful pitch for a job which may include creating a new "programme" of educational opportunities, experiences, spaces and resources in the Arts Faculty at Warwick (a wide-ranging faculty that covers the whole spectrum of arts and humanities). The brief was simple to create a 3 minute long video outlining my proposal. I used the Design Thinking methods that we teach in our IATL modules, informed by Ellen Lupton's brilliant book Design is Storytelling. It is based on three of the personas we use in design sprints for our modules, and a design fiction of what life would be like for those students in 2023.
Here's the model that I proposed (which may eventually get implemented).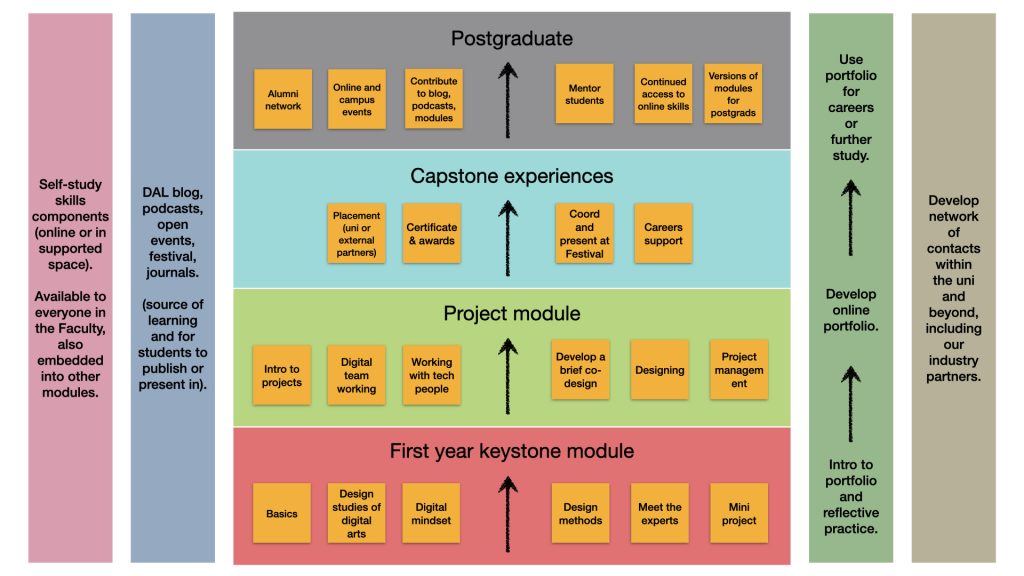 And the video. Notice how it combines the design fiction with titles that point out key implications and connect it to the framework. The titles add extra emphasis showing how elements of the student experience implement the design values guiding the design. This is a good example of how Design Thinking joins together values, detail about design features, empathy, and experience.
The pitch was successful, with a unanimous response from the panel. I am now the Director of Student Experience (Digital) for the Arts Faculty at the University of Warwick.

Software used: Miro (for developing the design and getting input from students), Keynote (for the diagram and slides), Screenflow (for recording and editing the video), all on an M1 MacBook Pro with a Blue Yeti mic.