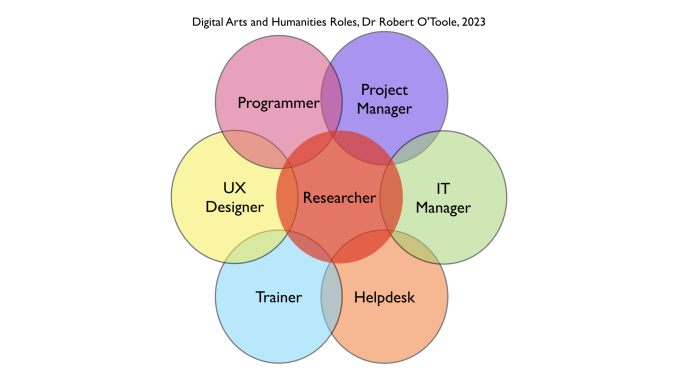 Collaborative by default
Since each of us was several, there was already quite a crowd.

Deleuze & Guattari, Anti-Oedipus.
Every effective use of digital technologies involves a set of specialists, each with different concerns, knowledge, and skills. In everyday use, when doing a routine operation using familiar and well functioning tools, we don't even notice these people. Sometimes, when things don't go smoothely, we call upon their help (or curse them unfairly). When we are doing something new, as is more often the case in research projects, the roles and the resources through which they are fulfilled become more significant. The extent of our reliance on them depends on the newness of the outcomes we are aiming for. We might not always, for example, require the services of a programmer, although as I will demonstrate, the programmer's mindset and skills are always helpful, even when using ready-built systems. In Digital Arts and Humanities, every researcher can benefit from being a programmer to some extent, seeing things through the programmer's perspective. The same is true of the project manager. You're unlikely to employ a professional project manager, even in a well-funded project (they are expensive), but you can still benefit from the PM perspective, even in your everyday work. You might not need to employ a trainer, or attend formal training courses, but it helps to manage your own skills development and those of your colleagues using the IT Trainer perspective. In fact we are all doing these roles all the time. I have observed that practitioners who are able to flexibly move into a different one of these perspectives as they need to are more successful. This applies in their everyday operations, in their development projects, and when they have to work with specialists (for example, when calling on the support of the IT Helpdesk).
Let's have a look at each of the seven roles to get an idea of what they care about and how they see the world. In subsequent theory articles we will explore each in more depth. In our workshops we will always reflect of tools and technologies from each of these perspectives.
---